5 top tips for meaningful performance management conversations
Featured
5 TOP TIPS FOR MEANINGFUL PERFORMANCE MANAGEMENT CONVERSATIONS
Performance management conversations can be fraught. Employees often experience a sense of unease during the approach to their yearly appraisal as conversations are often one-sided and sometimes feel accusatory.
As such, organisations are increasingly following the likes of Google, Deloitte and Microsoft by replacing the formal annual appraisal with frequent performance conversations. Performance dialogues 'are one of the most powerful management tools at a leader's disposal' [1].
However, for performance management to be effective, constructive and positive, conversations must be frequent and carefully structured to ensure that successful work can be praised, and issues aired.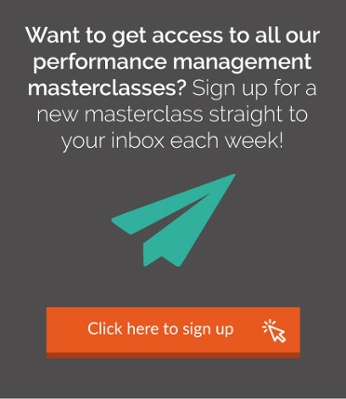 For more meaningful performance management conversations:
1. GO INTO THE CONVERSATION WITH A PURPOSE
'How's it going?' is not a purposeful way to open a conversation, and employees are likely to give a non-affirmative response to avoid what they believe could be a difficult conversation. However, by opening the conversation with a specific leading question such as "How do you think Project XYZ went?" can address any highlights – or shortfalls – within the team.
2. BE OPEN TO NEW IDEAS
They say, 'if it ain't broke, don't fix it'. But what if it is broken? Whilst it can be difficult to hear that 'your way' isn't working, frequent conversations mean that managers are made aware of inefficient and frustrating processes and can consequently make changes to their team's work flows.
3. MOVE FROM DIALOGUES TO ACTION
As with all successful relationships, regular conversation is key but action is louder than words. Regular informal catch-ups allow managers and employees to air any issues early on, which should lead to remedial action sooner rather than later. This prevents any resentfulness or anxiety building up as matters can be resolved before they escalate.
4. AIM TO IMPROVE EMPLOYEE LOYALTY
Employees like to feel appreciated and needed. By having regular conversations with employees with constructive feedback, they will understand their role within the organisation and the importance in what they do. As a result of this, the overall performance of the organisation will improve – an objective that 98% of organisations are looking to achieve [2].
5. MAKE THE MOST OF REGULAR 1-2-1 CHECK INS
Regular 1-2-1 check ins allow meaningful conversations to be recorded, whether paper-based or online. These records can be regularly referred to so that performance management is an ongoing process throughout the year.
1-2-1 check in forms have the additional benefit of being configurable – they can reflect any process using simple free-text boxes, to include achievements that the employee is proud of, and where they require a little more assistance.
These forms bring consistency to the 1-2-1 check in, making it easier for managers and employees to interact with each other over the course of the year whilst ensuring fairness throughout the team.
With regular conversations, 83% say they see the quality of conversations between employees and managers improving [2].
Meaningful conversations are key to successful performance management, but these conversations must be documented. Traditionally such conversations were recorded on paper, but organisations were finding that information would be disorganised and illogical.Furthermore, with the introduction of GDPR in May 2018, employee confidentially is of utmost importance and must be kept secure.
Because of this, organisations are increasingly relying on online performance management tools to document performance-related questions. In this manner, employees are given the opportunity to record their own thoughts whilst their manager can log in at anytime to review any feedback or thoughts.
Online performance management tools allow both employee and manager to reflect briefly on past performances to adapt for future strategy. The entire performance management process consists of both regular 1-2-1 check ins, and the concluding yearly appraisal meeting. This puts more emphasis on what can be achieved in the future,rather than dwelling on historical events that cannot be changed.
[1] 'Shall we talk? Getting the most out of performance dialogues'. McKinsey, 2011
[2] 'Performance management: Playing a winning hand 2017 Global Human Capital Trends'.Deloitte, 2017
Please sign in to leave a comment.